Home >> Hotel Directory India >> Hotels in Swaimadhopur >> Hotel Aman-i-khas
HOTEL AMAN-I-KHAS
---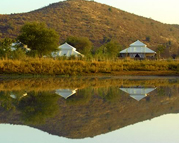 Ranthambhore, Ranthambore National Park
City – Ranthambhore, Sawai Madhopur
Pin Code – 131030
State – Rajasthan

8.7 kilometers from Sawai Madhopur
20 kilometers from Ranthambore National Park
Location Advantage
The secondary international gateway to Aman-i-Khás is Jaipur, which offers international flights to and from Dubai (the return leg passes through New Delhi) and Bangkok. Jaipur is a 45-minute flight from Delhi. There are approximately six daily flights between Delhi and Jaipur during high season, operated by Kingfisher, Jet Airways and Indian Airlines. Kingfisher also operates daily flights to Jaipur from Mumbai
From Delhi, guests can travel to Aman-i-Khás by train, plane, motorcar or helicopter. The train is often the most convenient method, and travel time to Sawai Madhopur station, on the outskirts of Ranthambore National Park, is approximately 6 hours by Golden Temple Train and 4 hours by Augustkranti Train.
Lounge-provides a wide selection of coffee-table books on the National Park, India's tigers and the history and culture of Rajasthan, as well as other aspects of Indian heritage. Also on offer is a selection of novels, magazines and board games. The Spa Tent features a small central fountain with two treatment areas, each with twin massage tables. Spa treatments include massages, scrubs and traditional henna art using local herbs and spices. Fireplace-Situated in the central area of the camp, this outdoor spot with its nightly log fires serves as an informal lounge and dining area. step-well Refreshing dips can be taken in a step-well set within the camp. Modelled on the ancient step-wells that are traditional to the area, the camp's pool is surrounded by a sunny terrace and grove of trees.

Services
Wireless broadband connections are available in the Lounge Tent and some public areas.
Aman-i-Khás offers guests 24-hour access to medical assistance.
Indian cuisine and a range of Western dishes are served, and the freshness of produce is ensured as most of the vegetables and herbs are grown in the camp's organic vegetable garden. Dinner is most often concluded around a roaring outdoor fire that serves as a focal point in the evenings.

Ownership:
Amanresorts International Pte Ltd, Singapore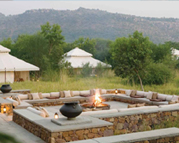 || For Reservations ||
Tourism India Management Enterprises Pvt. Ltd.
Plot No. 78, Sector 44, Gurgaon-122002, Haryana INDIA
Phone :0091-124-4932450 Fax :0091-124-4932499
Email - timepl@airtelmail.in