Home >> Hotel Directory India >> Hotels in Kumarakom >> Hotel Coconut Lagoon
COCONUT LAGOON HOTEL
---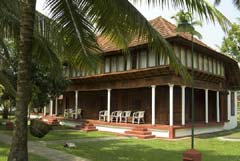 Address :
P.B. No. 2, Kumarakom
Kottayam-686563, Kerala, India.


Access :
Half – way by road and take the ferry from Taneermukkam jetty or Kumarakom.

Location Advantage :
10 Kms from Kottayam, 78 Kms from Cochin. Direct ferry from Casino Hotel, Cochin, also travel half - way by road and take the ferry from Tanneermukkam jetty or Kumarakom.

Accommodation :
14 Heritage Mansions, 28 Heritage Bungalows. Though some of the cottages are of more recent vintage, many are well over a century old and a few actually date back to the early 1700s.

Recreation :

The Cashew Shaped pool, slightly elevated to give a commanding view is popular including the honeymoon couples who swim there in the early evening to the sounds of Indian classical music drifting across from the Garden Café. For those who prefer not to venture beyond the bounds of the resort itself, there are plenty of things to do. Simple bamboo fishing poles are available, too, and though the restaurant offers many fine seafood dishes on its ever-varied lunch and dinner menus, the chef nonetheless promises to cook any fish an angler catches from the lagoon. Be warned, however, that no prizes are given for catching a monster from the fish farm within the confines of the hotel, though no punishment is meted out for doing so, either.
Cuisine: Ethnic and international (buffet)
Activities and services: Ayurvedic massage, yoga and meditation , country boat expeditions, visit to bird sanctuary, 'Rice boat' cruises, fishing and swimming.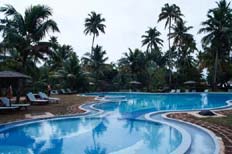 || For Reservations ||
Tourism India Management Enterprises Pvt. Ltd.
Plot No. 78, Sector 44, Gurgaon-122002, Haryana INDIA
Phone :0091-124-4932450 Fax :0091-124-4932499
Email - timepl@airtelmail.in