Home >> Hotel Directory India >> Hotels in Kathmandu >> Hotel Radisson
RADISSON HOTEL
---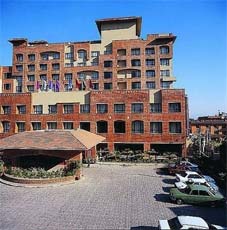 LOCATION :Radisson Hotel Kathmandu is an International Hotel located in the heart of the city and minutes away from all attractions including the Thamel District, restaurants, Historic Durbar Square, and the main Temples. Adjacent to the Royal palace. Hotel is surrounded by dramatic views of the mountains.

ACCOMMODATION : 163 beautifully appointed rooms, including terrace rooms with private outdoor terrace, suites, a presidential suite, 2 exclusive floors of Plaza Club rooms with club lounge.

FACILITIES & SERVICES : Health Club managed by Clark Hatch Fitness Center boasts of a Gymnasium (equipped with Life fitness machines from U.S.A) - ideal for: Internal, Circuit, Strength Training and Toning, Steam and Sauna bath, Jacuzzi Tubs, Uni sex Aerobic studio, Outdoor Swimming Pool, Dedicated Massage and luxurious changing rooms. The only rooftop swimming pool in Kathmandu with a stunning view of surrounding mountains and terrace fields of the Valley.
Business Center with full facilities including internet access. Full laundry and Valet service.

DINING :The Fun Cafe - Our all day dining restaurant, set against the serenity of our green lawn and majestic waterfall, offers tempting breakfast, lunch and dinner options and extensive "all you can eat" themed buffets featuring Western and Asian specialties. Our sumptuous American buffet breakfast is offered at this 24-hour restaurant.

Olive Garden - Restaurant offering true Italian Cuisine in an ambience that's distinctly Rome. Extensive selection of pastas, pizzas and other Italian dishes which are too good to resist. Located at the lobby level. Watch the chef's colorful display of culinary skills at the show kitchen.
Terrace Cafe - A beautiful retreat overlooking the swimming pool serving healthy shakes, fascinating drinks and beverages with wholesome snacks. The Corner Bar - An ideal environment to put your feet up and sip on exotic cocktails, freshly ground coffee, and sink your teeth into mouth watering snacks.

BANQUET AND MEETING ROOMS :Convention Center: The meeting Solution - Radisson Kathmandu is a popular venue for conference and incentive gatherings. Radisson solves your meeting requirements with the main ballroom and five separate meeting and conference rooms. The main convention center has the capacity to accommodate 800 people with separate meeting rooms accommodating 20 to 50 people. Full conference facilities including audio-visual and secretarial services.

ADDRESS : Lazimpat, PO Box 2269, Kathmandu BA 44601, Nepal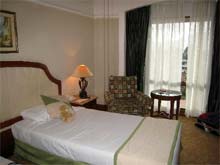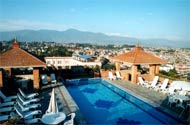 || For Reservations ||
Tourism India Management Enterprises Pvt. Ltd.
Plot No. 78, Sector 44, Gurgaon-122002, Haryana INDIA
Phone :0091-124-4932450 Fax :0091-124-4932499
Email - timepl@airtelmail.in