Home >> Hotel Directory India >> Hotels in Delhi >> Hotel Aman
HOTEL AMAN
---
Address
Lodhi Road
City – New Delhi
Pin Code – 110 003
State – Delhi
Access
Aman, New Delhi is 3 Km from the City Centre and is easily accessible from the Indira Gandhi international airport which is only 35km. Many international carriers have daily flights to and from New Delhi.
Location Advantage
Located in the heart of New Delhi, just south of the Delhi Golf Course and adjacent to the medieval Nizamuddin complex lies this beautiful city-based resort. From its prime location where the modern and historic are juxtaposed in perfect harmony, it is possible to enjoy many of the cultural wonders that New Delhi has to offer from the spectacular architecture of the Mughal Era to the grand monuments of the British Raj.
Services
Wireless broadband connections are available. Aman, New Delhi offers guests 24-hour access to medical assistance.
Facilities
The Library includes a wide selection of material on various subjects in several languages, from rare books on Delhi to historic and photographic works on the subcontinent. Wireless internet access is available. The Cigar Lounge features comfortable leather armchairs in which to relax and enjoy a glass of spirits or a premium cigar from the selection available. The Aman Spa features eight private Treatment Rooms, Hair and Beauty Salon, two traditional Hammam Steam Baths and Bamboo Garden Relaxation Areas. Each treatment room is fully-equipped with a private shower, steam room, bathtub, vanity and daybed. An extensive spa menu features luxurious spa treatments for both ladies and gentlemen. The lap pool is overlooked by the Pool Bar. Here informal seating is set beneath a colonnade which runs along the edge of the 50-metre Pool. Light Indian snacks and Continental fare is served. The Health Centre is set in a sunken courtyard that is a focal point for fitness and recreational activities with three Tennis Courts, three Squash Courts, a Pilates Studio and a Gym. Professional instructors are always on hand to offer personalised guidance for all levels of experience
Cuisine
The Aman serves breakfast, lunch and dinner, as well as afternoon tea. The menu features a selection of Indian and Thai dishes, along with French Kaiseki at the Naoki counter, which fuses the best of French technique with Japanese artistry

Ownership :
Amanresorts International Pte Ltd, Singapore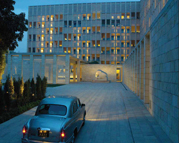 || For Reservations ||
Tourism India Management Enterprises Pvt. Ltd.
Plot No. 78, Sector 44, Gurgaon-122002, Haryana INDIA
Phone :0091-124-4932450 Fax :0091-124-4932499
Email - timepl@airtelmail.in